Skip to Content
Providing Care from Your Head to Your Toes
Acute or chronic pain in any part of the body can be a debilitating symptom that affects your quality of life, keeping you from feeling comfortable or doing the activities you love. Effective Chiropractic PG County is here to help you realize that you don't have to live in discomfort. We provide chiropractic care in Lanham, MD to help patients dealing with neck, back, hip, and knee pain as well as discomfort in other areas. Our medical professionals will be able to find the cause of your pain, whether it stemmed from an injury, illness, poor posture, or another reason. We'll then build a treatment plan to help you recover and get back to the life you love. Please reach out to us today to schedule an appointment.
Common Symptoms Chiropractic Care Can Improve
Chiropractic care uses special instruments and manual movements by a doctor to manipulate joints in the body and provide pain relief. Also known as spinal or joint manipulation, this treatment can help to correct the body's alignment and physical function. Chiropractors complete a rigorous training and educational program to receive a doctorate, going on to treat patients who are suffering from a number of physical ailments. Chiropractic adjustments can help improve several symptoms, including: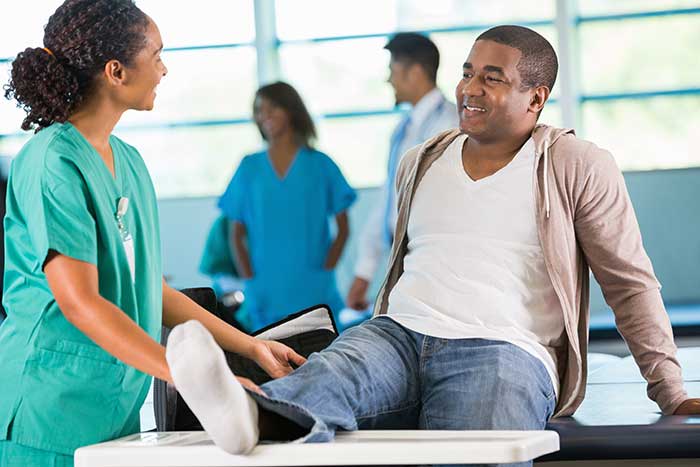 We Provide Comprehensive Chiropractic Treatment
At Effective Chiropractic PG County, we are a comprehensive chiropractic care center, providing treatments for injuries and pain in all areas of the body. Our doctors can pinpoint the cause of your discomfort and develop a treatment plan to effectively reduce your pain and help you regain your range of motion. Treatment for injuries is not something you should put off, as it can lead to lasting pain that is harder to heal. We will work to find relief for you so you can get back to your active lifestyle. The chiropractic services we offer include:
Benefits of Chiropractic Care
When experiencing pain or recovering from an injury, many patients forego treatment, assuming it will get better on its own. However, doing so can make the problem worse. While going to your primary care physician may help you temporarily deal with pain through medication, it often doesn't provide long-term relief. Chiropractic care is usually much more beneficial at delivering lasting results, as these doctors know the proper methods to relieve musculoskeletal compression and pain and provide correct spinal alignment. Repeated treatment and chiropractic adjustments provide many benefits to patients, including:
Less Invasive: Chiropractic care is entirely non-invasive, unlike other treatment options like surgery or steroid injections.
Prevents Need for Medication: Chiropractic adjustments can help to relieve discomfort, so you don't have to rely on pain medication.
Pain Relief: Chiropractic care will help to relieve pain in the back and neck, as well as in the joints.
Improved Health Overall: Regular chiropractic adjustments can improve blood pressure, reduce insomnia, and enhance mobility.
Better Performance: You'll notice improved athletic ability and performance with regular care from a chiropractor.
Enhanced Emotional State: With a reduction in pain and discomfort, you'll feel less stressed and overwhelmed, improving your mental state.
What to Expect from Us
When you come to our chiropractic care center in Lanham, MD, you can expect to receive the best care from our team of qualified and experienced doctors. You will get an individualized treatment plan tailored to your specific needs and designed for long-term healing. You can also count on our effective adjustments to provide quick symptomatic relief, helping you recover faster. Not to mention, all of this will be done by trained medical professionals. You can expect to leave our office feeling better.
Why Choose Us?
When it comes to receiving a high level of care and attention for your pain, Effective Chiropractic PG County is the health provider to choose. We provide excellent care because we listen to your needs, expertly evaluate and diagnose your symptoms, and provide treatment to ensure your pain is alleviated. We have more than ten years of experience serving the local community and have built a reputation for providing quality care and compassionate patient service. We'll ensure your needs are met and get you back to the life you deserve.
Schedule an Appointment
If you are interested in learning more about how chiropractic care can help you relieve pain and heal injuries, now is the time to give us a call. We can answer any questions you have and set up a time for you to visit us for a free consultation. You'll have a chance to meet with one of our doctors and discuss your concerns. Contact us today to get started!
What Our Patients Are Saying
We always want to assure that our patients receive great care and have good experience when they come to see us. Below are comments that we have been honored to receive.
Schedule Your Free Consultation Today!