Skip to Content
Learn About Our Therapeutic Exercises in Lanham, MD
Effective Chiropractic Offers Physical Therapy Exercises
At Effective Chiropractic PG County in Lanham, MD, our team of licensed chiropractors incorporates therapeutic exercises into our comprehensive physical therapy routines for maximum benefit. These techniques improve mobility and relieve pain in patients of all ages. Whether you have chronic back pain, a sports injury, discomfort from repetitive movements, or you're recovering from a traumatic injury, we will design a program to get you back to doing what you love without the constraints or pain you're currently experiencing. It all starts with a free consultation to discuss your symptoms, so contact us to schedule an appointment today.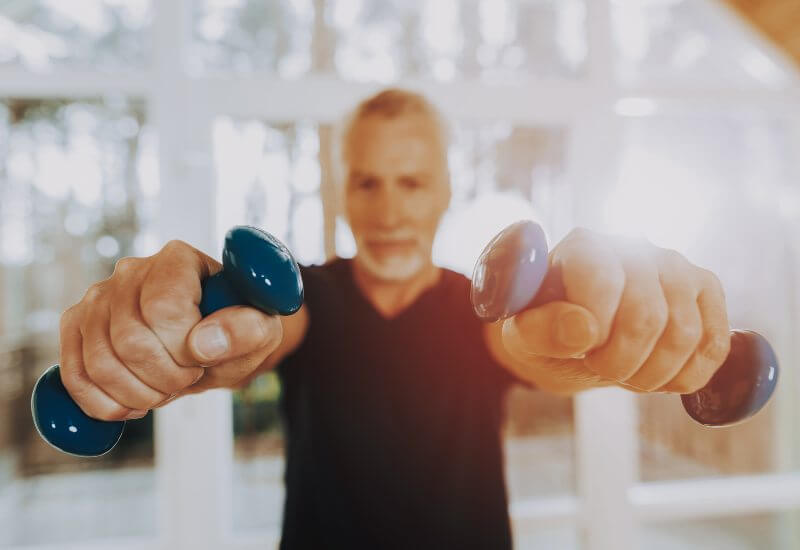 What Is Therapeutic Exercise?
Exercise is great for anyone of any age. However, those who have chronic or acute pain, arthritis, or an injury may be limited by discomfort and mobility. If you're in this category, it's also critical that you are careful not to take on a program that can make your condition worse from improper exercise. Therapeutic exercises are different than traditional cardio or physical conditioning. Our team of physical therapists uses specific exercises to target various types of joint, muscle, and back pain or injuries. This type of therapy aims to relieve discomfort and restore mobility, flexibility, and balance, and prevent the initial symptoms from coming back.
Types of Therapeutic Exercise We Might Use
When you visit our chiropractors, we always start with a detailed consultation where we'll discuss your injury or pain to learn details that will help us devise a plan to meet your specific needs. Physical therapy isn't just for those who have had recent surgery. It is beneficial to many chiropractic patients simply dealing with pain or an injury that doesn't require surgery. Therapeutic exercise is often a part of this program. Each type of exercise is categorized by the results they're designed to achieve.
Range of Motion – Joints and muscle constraints are a common source of pain, especially in athletes or those with arthritis. These may include passive and active techniques with the assistance of a therapist.
Muscle Performance – Building strength and increasing muscle performance through resistance and endurance activities are the focus of these exercises.
Posture – Poor posture and misalignment put a lot of strain on muscles. By improving posture, we can remove the impact on the muscles and nerves.
Balance and Coordination – Every body movement requires balance and coordination to execute it properly. Injuries can hinder how the body coordinates movement, and these exercises target bringing that function back.
Relaxation – As the saying goes, motion is the best lotion for poor joints and muscles. But relaxation has healing powers as well with the use of proven techniques such as heat or cold applications and massage.
Area Specific Exercises – Blood flow and oxygen are both essential to healing. Breathing exercises will help introduce both to the injured areas and assist in rebuilding the damaged muscles and tissue.
The Benefits of Therapeutic Exercise
When our licensed chiropractors and therapists incorporate therapeutic exercises into your healing program, there are many benefits, including:
Peace of mind knowing the activities are safe for your condition
Better range of motion
Relief from pain
Improved mental health
Increased strength
Reasons to Choose Our Team
Our team of professionals is dedicated to providing chiropractic services to patients of all ages that improve their overall well-being. Not only is pain uncomfortable, it limits the activities people can take part in, which also affects mental health. Often, functioning with an injury requires overcompensating with other parts of the body, leading to additional pain and injuries. Our lead chiropractor was a chiropractic patient himself at one time. He was so inspired by the healing experience that he has dedicated his life to helping others in similar situations. Reasons to choose us include:
We accept most forms of insurance
Licensed acupuncturist and massage therapist on staff
Three convenient locations
Free consultations
We're here to answer all of your questions
Contact Us to Learn More About Therapeutic Exercise
Effective Chiropractic County PG is a full-service chiropractic care center in Lanham, MD offering comprehensive treatment plans, including therapeutic exercises for improved mobility and strength. We take great care with all of our patients, whether you're visiting us for a work-related injury, recovering from a car accident, or having chronic pain for unknown reasons. You can take comfort knowing we will provide you with personalized care designed to treat and deliver results for your particular circumstances. We have a variety of techniques we employ to relieve pain, such as dry needling, massage, electrical muscle stimulation, and more. Schedule your free consultation using our online form, or contact one of our three locations to make your appointment.
Schedule Your Free Consultation Today!