Skip to Content
Chiropractic Pregnancy Adjustments in Lanham, MD
We Provide Pediatric & Pregnancy Care
Chiropractic care is for everyone, even children and women who are pregnant. Anyone can experience aches and pains, causing disruption to life and making it difficult to complete everyday tasks. Adjustments by a chiropractor can help to realign the body and alleviate symptoms, ensuring a more comfortable pregnancy or a happier child. Effective Chiropractic PG County can provide pediatric care and chiropractic pregnancy adjustments in Lanham, MD to help you or your child feel better without the need for medication or surgery. You don't have to live with the aches and pain caused by pregnancy or an injury. Let our team help you find relief with our comprehensive chiropractic care.
Treatment for All Ages
At Effective Chiropractic PG County, we provide care for patients of all ages, including children and moms-to-be. Our treatment plans are designed specifically for each individual patient, ensuring each person receives personalized care. Many women experience aches and pains in the lower back and hips during pregnancy due to the change in posture. We can help to relieve your pain with a spinal or pelvic adjustment, ensuring a more comfortable pregnancy. We also provide care for children and teens, as we fully understand that they are just as susceptible to aches and pains as adults. We can treat children with spinal misalignments, traumatic injuries, and chronic pain caused by conditions like juvenile rheumatoid arthritis.
How Chiropractic Adjustments Help Pregnant Women
Visiting a chiropractor for regular adjustments during pregnancy can help make your entire pregnancy more comfortable by reducing aches and pains. These adjustments can also help to make the labor process easier, as they can help to reduce the length of time necessary for delivery. In addition, chiropractic care may help you avoid cesarean delivery and eliminate the need for bed rest due to pressure on the joints. If you are looking for ways to help you achieve a safer, smoother, and natural delivery, chiropractic care is the answer.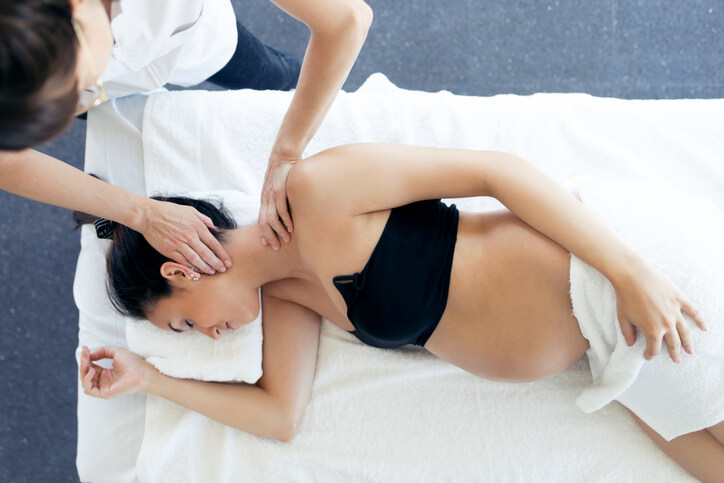 Chiropractic Care Can Help Common Pregnancy Conditions
During pregnancy, your body undergoes changes rapidly. As the baby grows, your body changes along with it. You're now carrying extra weight at the front of your body, which can cause your center of gravity and posture to shift in response to this. Unfortunately, this shift can result in aches, pains, and discomfort because your body isn't used to it. Chiropractic care can help you deal with these common problems, including:
Misaligned joints or spine caused by changes in posture
Pelvic discomfort as your body prepares for labor
Misaligned pelvis tissues that could restrict your baby's movements or lead to a breeched birth
Chronic or acute back, hip, neck, or shoulder pains
Symptoms of morning sickness or nausea
Should You Get Chiropractic Care During Pregnancy?
While it's not a requirement to undergo chiropractic treatments during pregnancy, we highly encourage it to help you feel better. Changes to your body during pregnancy can result in a misaligned spine or joints, which can cause discomfort and make the laboring process more difficult. Not to mention these problems can persist after delivery, resulting in long-term discomfort. Regular chiropractic adjustments during your pregnancy will keep the spine and joints in line as the baby grows and your body changes.
Pediatric Conditions Treated by Chiropractic Adjustments
Children of all ages can benefit from chiropractic adjustments. Our team of chiropractors treats infants, small children, and teens, helping them live better, more comfortable lives. We are able to provide solutions for common childhood conditions without the need for medications or surgery, offering natural relief. Whether you have a constantly crying baby, a toddler with a chronic condition, or a teen that's facing an injury, we can create a treatment plan to provide relief. Care from our team can help many pediatric conditions, including:
Asthma
Chronic ear infections
Colic
Upper respiratory infections
Allergies
Sleep and digestive issues
Headaches
Irritable baby syndrome
Breastfeeding difficulties
Autism
Asperger's syndrome
Sports injuries
Juvenile rheumatoid arthritis
Joint pains and tension
Lyme disease
Rheumatic fever
Attention-Deficit/Hyperactivity Disorder (ADD or ADHD)
Cognitive issues
Is Chiropractic Care Safe for Children & During Pregnancy?
Chiropractic care is safe for both pregnant women and children, but you should make sure your doctor has experience in prenatal and pediatric care. At Effective Chiropractic, we have specialties in these two areas to ensure you're being treated by a professional. We take extra precautions with pregnant women, using a special table designed to take pressure off your belly and protect the baby. We do not recommend visits to us if you are experiencing any vaginal bleeding, severe cramping, placenta previa or abruption, premature labor, or moderate to severe toxemia during your pregnancy.
Contact Us for an Appointment
If you are looking for a caring and experienced prenatal or pediatric chiropractor in the Lanham area, you've come to the right place. Effective Chiropractic PG County can provide the relief you need by helping you deal with the aches and pains of pregnancy or helping your child overcome common pediatric conditions. Our team of healthcare professionals will build a personalized treatment plan to meet your needs. Please reach out to us today for more information or to schedule a consultation appointment.
Schedule Your Free Consultation Today!