Custom-Made Orthotics in Lanham, MD
If you are uncomfortable standing or walking in your shoes, the issue may not be with your footwear; instead, you might have an underlying foot condition that requires further evaluation and treatment. While many foot conditions can be treated with physical therapy, surgery, and other procedures, orthotics are sometimes the answer.
At Effective Chiropractic PG County in Lanham, MD, we offer custom-made orthotics, boots for ankles, and custom braces to treat imbalances caused by faulty insteps or heel positioning.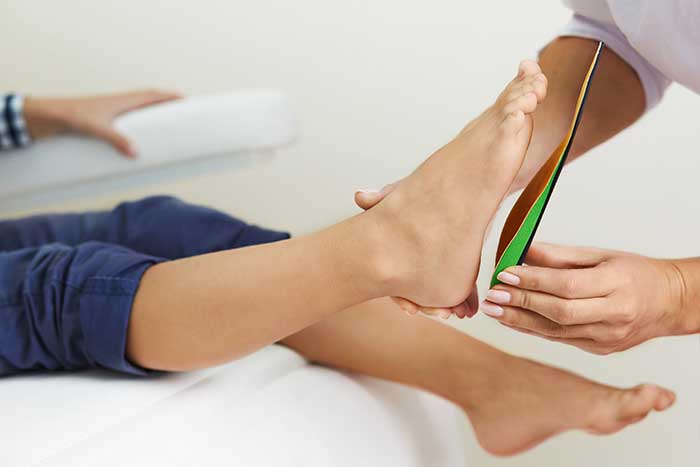 Soft Orthotics
Soft orthotics are also called accommodative orthotics.
Soft orthotics are made from soft compression materials such as neoprene.
Because they are made of soft compression materials, these orthotics are best for uncomfortable sore spots and foot conditions, including plantar fasciitis or diabetic foot ulcers.
Soft orthotics can be bulky, and you might need custom-made footwear for a proper fit.
Whichever type of orthotics you need, Effective Chiropractic PG County can craft the perfect custom-made orthotics to fit your feet. Whether you are using them to relieve foot pain or address a chronic foot condition, our chiropractic experts have the tools and experience to get you walking and living comfortably in your shoes again.
When Do You Need Custom Orthotics?
While you can try to find relief with store-bought orthotics, the fit may not be quite right because they are not personalized to you. Unlike a new pair of shoes, a pair of orthotics does not "break in" and become more comfortable over time. If you are having trouble with store-bought orthotics and your foot conditions are not improving, it may be time to come in for a set of custom-made orthotics. We have years of experience helping our patients get pain relief and look forward to helping you today.
Free Consultations
We know it can be terribly uncomfortable to walk around when you have a foot condition or even normal aches and pains. A well-made pair of custom orthotics can completely change the way you experience everyday life. Many of our patients are able to resume normal activities after they begin using their custom-made orthotics.
Uncertain if custom-made orthotics are for you? At Effective Chiropractic PG County, we offer free consultations and checkups for all orthotics fittings. We also offer our patients a comprehensive foot exam and consultation so you can be sure orthotics are the right answer for your foot troubles. There's no obligation and no cost to you, so call us today in Lanham, MD, for immediate relief.
Schedule Your Free Consultation Today!